Plate: Delhi - Roorkee Road Map
Roorkee is the entrance town (from Delhi) to various destinations of Uttarakhand including the Char-Dham (Gangotri, Yamunotri, Sri Badrinath and Sri Kaidarnath), holy places like Haridwar, Rishikesh, Uttarkashi and hill stations of Mussorie (Popularly known as Queen of Hills) and Dhanolti. The state capital Dehra Dun is about 75 kms. from here via road and about 100 kms. via rai.. From about 50 kms. from here, Mountain kingdom of Uttarakhand Himalaya begins.
You may reach here from any of the following important trains:
01. New Delhi - Dehra Dun (Shatabdi Express)
02. New Delhi - Dehra Dun (Jan Shatabdi Express)
03. New Delhi - Dehra Dun (A/c Special Express)
04. Chennai - Dehra Dun/ Chandigarh Link Exp. (S/F Express)
05. Mumbai/ Bandra - Dehra Dun (Dehra Dun Express)
06. Chandigarh - Muzaffarpur (Harihar Express)
07. Jammu Tawi - Guwahati (Lohit Express)
08. Chandigarh - Lucknow (Chandigarh Express)
09. Dehra Dun - Okha (Uttarakhand Express)
10. Gorakhpur - Jammu Tawi Exp. (Amarnath Express)
11. Jammu Tawi - Barauni (Amarnath Express)
12. Amritsar - Howrah (Punjab Mail)
13. Puri - Haridwar (Kalinga – Utkal Express)
14. Indore - Dehra Dun (Intercity Express)
15. Sriganganagar - Haridwar (Intercity Express)
16. Amritsar - Dehra Dun (Lahori Express)
17. Dhanbad - Firozpur Cantt. (Ganga-Satluj Express)
18. Sahranpur - Lucknow (Saharanpur Express)
19. Ujjain - Dehra Dun (Ujjayani Express)
20. Sealdah - Jammu Tawi (Sealdah Express)
21. Jammu Tawi - Rishikesh (Hemkunt Express)
22. Howrah – Amritsar (Howrah Express)
23. Barmer - Haridwar (Link Express)
24. Ahemadabad - Delhi - Haridwar (Delhi Mail)
25. Amritsar - Howrah (Jaliyaanwalabagh Express)
26. Dehra Dun - Kochuveli Super Deluxe Express
27. Saharanpur - Lucknow (Passenger)
28. Delhi - Haridwar (Passenger)
29. Moradabad - Saharanpur (SM – Passenger)
30. Dehra Dun - Saharanpur (DLS – Passenger)
31. Delhi - Delhi (Passenger)
32. Kaliyar Mela Special (Lucknow/Moradabad – Roorkee/Saharanpur) (*During Annual Urs at World Famous Dargah - E - Kaliyar Sharif – Near Roorkee) (*In addition, some more trains are available for all over India from nearest important stations/ junctions viz. Saharanpur, Laksar and Haridwar)
PHOTO GALLERY - ROORKEE
Plate: Main Building, Indian Institute of Technology, Roorkee
Plate: The World Famous Dargah - E - Piran Kaliyar - A Symbol of Unity
Plate: Students at Jawahar Bhavan Hostel, IIT Roorkee - Holi Celebrations
Plate: A Class at Roorkee School for the Deaf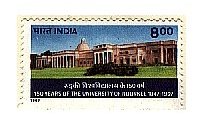 Plate: Postal Stamp, released by Government of India, on the occasion of Sesquicentennial Celebrations (150 Years) of earstwhile University of Roorkee (Now IIT Roorkee)
(C.) Geographical and Meteorological Parameters:
Roorkee is located at 29 Deg. 51 Mins. N and 77 Deg. 53 Mins. East on the south bank of Solani River. The Upper Ganga Canal is the most important features and adds beauty to the city. Running from north to south, it divides the city in two distinct parts.
Important geographical and meterolocical parameters of the city are as follows:
01. Latitude : 29 Deg 51 Min N ; Longitude : 77 Deg 53 Min E
02. Altitude : 274 Meters AMSL (Above Mean Sea Level)
03. Averate Annual Rainfall : 1068 mm
04. Average Monsoon Rainfall : 878 mm
05. Heaviest Rain in 24 Hrs. : 286 mm (1880)
06. Average Max. Temperature : 40 Degree Celntigrade
07. Average Min. Temperature : 2 Deg. Centigrade
08. Average Max. Humidity : 100 %
09. Average Min. Humidity : 30 %
10. Average Annual Potential ET : 1340 mm
11. Average Annual Wind Speed : 4.9 m/s
12. Average no. of days with Fog : 15 days
13. Average no. of days with Thunder : 39 days
14. Average no. of days with Hail : 2 days
15. Average no. of days with Duststorm : 3 days
16. Highest Temp. : 46.7 Deg Cent (June 13th, 1932)
17. Lowest Temp. : -2.2 Deg Cent (February 02nd, 1905)
(D.) Important Academic Institutions:
01. Indian Institute of Technology (IIT-R) (Formerly University of Roorkee)
02. College of Engineering Roorkee (COER)
03. Roorkee Institute of Technology (RIT)
04. K.L. Ploytechnic (KLP)
05. Roorkee Institute of Medical Sciences (RIMS)
06. Roorkee College of Pharmacy (RCP)
07. Bishambhar Sahai Law Institute (BSLI)
08. B.S.M. Law College
09. Institute of Management Studies (IMS)
10. District Institute of Education and Training (DIET)
11. Roorkee School for the Deaf
12. B.S.M. Post Graduate College
13. K.L.D.A.V. Post Graduate Colege
14. S.D.P.C. Girls Degree College
15. Methodist Girls Degree College
16. Seventh Day Advantist College
17. Babu Ram Degree College
18. Roorkee Degree College
19. Arihant College of Education
Besides, a number of Sr. Sec./Sec. Schools are located in the city for better education.
Available academic programmes in the city:
General Education: Pre - Nursery to Sec./Sr. Sec.: All Disciplines
Humanities: Sec./Sr. Sec. to Ph.D./ Post Doctorate Levels
Sciences: Sec./ Sr. Sec. to Ph.D./ Post Doctorate Levels
Computers: School Level to Ph.D./Post Doctorate Levels
Engineering: B.E./B.Tech. to Ph.D./ Post Doctorate Levels
Management: Graduation to Ph.D./ Post Doctorate Levels
Commerce: Sec./Sr. Sec. to Masters Levels
Medical: At present Pharmacy and Pathology related programmes
Hotel Mgt. & Tourism: Diploma to Post Graduate Levels
Degree Programmes Available in City: School Level Education (Pre Nursery to XII Standard), B.A./M.A., B.Sc./M.Sc., B.Com./M.Com., B.B.A./M.B.A., B.C.A./M.C.A., B.E./M.E., B.Tech./M.Tech., Diploma/P.G.Diploma, B.Lib./M. Lib., L.L.B. , Ph.D./Post Doctoral Programmes.
(E.) Research and Professional Organisations:
1. Central Building Research Institute (CSIR, Govt. of India)
2. National Institute of Hydrology(M/o of Water Resources, GoI)
3. Irrigation Reserach Institute (Under State Govt.)
4. Irrigation Design Organisation (Under State Govt.)
5. State Govt. Engineering Workshop (Under State Govt.)
(F.) Roorkee Cantonment:
Roorkee Cantt. is the Head Quarters of the Indian Army's BENGAL ENGINEERING GROUP AND CENTRE/BENGAL SAPPERS (Affectionately called as God's Own). The BEG & C have the unique distinction of being the only army's group affiliated with both the Navy and the Air Force. The acievements of the group during times of peace are no less renowned than those during war. It won laurels by constructing the Upper Ganga Canal , building roads and bridges at high altitudes and undertaking the management of natural calamities and disasters in different parts of the country. Important projects undertaken by the group include construction of Upper Ganga Canal, The Thomason Engineering College (Now IIT Roorkee), The trunk road between Kolkata and Nagpur and the GT Road.
The BEG & C Roorkee is one of the oldest army units of the country and has become a legend of valour, service and sacrifice. Capt. Tom Wood raised Bengal Pioneers in Kanpur (U.P.) in 1803. After this, Bengal Sappers was founded in 1819. Afterwards, both these organisations were merged into one known as BEG & C and it's head quarter was established at Ludhiana (Punjab), which later on , in 1853, was shifted to Roorkee, now known as BEG & C Roorkee, Bengal Sappers Roorkee or Roorkee Cantt.
The BEG & C Roorkee has the proud distinction of earning hundreds of coveted honours and military awards including Padm Vibhushan, Padmshri, Victoria Cross, Military Cross, Indian Order of Merit, Very Special Medal, Special Service Medal, Kirti Chakra and Arjun Awards, during war times.
(G.) Select Festivals of Roorkee:
(01.) CONFLUENCE: CONFLUENCE, the foreign student's day at IIT Roorkee is celebrated each year . It's virtually a confluence of the multi-dimensional and rich cultures of Afro-Asian and Latin American countries vivified through songs and folk dances by the foreign students studying in IIT Roorkee. There are about 150 seats in different disciplines of engineering and technology, applied sciences, management and social sciences in IIT Roorkee for a number of countries including Bangladesh, Nepal, Bhutan, Indonesia, Ethiopia, Middle East countries, Venezuela, Magnolia, Uzbekistan, African countries etc. The CONFLUENCE, which is held every year, is dedicated to the memory of the great educationist and first education minister of the country, Maulana Abdul Kalam Azad. The cultural items presented by the foreign students have themes like romantic love and love of the country. Though the foreign students sing in alien languages, their songs find their way into the responsive hearts of the listeners who fully grasp their meaning, though they don't understand the language. The aim of organizing this event every year is to build bridges of understanding and promote cultural integration by bringing the students of different countries in touch with what is best in the cultures and traditions of these countries.
(02.) COGNIZANCE: Cognizance - is the mega techno-festival of IIT Roorkee, organized each year around March. A number of students of technical institutes and universities from all over the country participate in the mega event. The main attractions of the festival include paper presentation by renowned scholars, guest lectures by eminent personalities from corporate houses, debates, quiz competitions, etc.
(03.) SHRISHTI: The Annual All India Techno - Hobby Festival / Annual Exhibition is organised by Hobbies Club, IIT Roorkee. It includes the sections related to hobbies/ interests from different walks of life viz.: Philately & Numismatics, Gardening, Star Gazing (Space Sciences), Web Designing, Model Section, RANGOLI, Photography, Fine Arts etc. It attracts students from all over India and also public in both Members and Guest Categories.
(03.) THOMSO: Thomso - the annual festival of Youths at IIT Roorkee attracts students from all over India, especially from Engg. Colleges/Universities. Its celebrated in the memory of JAMES THOMASON (The man behind the Thomason College of Civil Engg. - Later upgraded to Thomason College of Engg. - Roorkee College - University of Roorkee - and Finally the 7th and Youngest IIT of the nation with longest history.). The Thomsonians - as the University of Roorkee students have been designated in past (Though they are treated as IITians now a days - they are still Thomsonians by spirit!!!) invite students from All over India in this Youth festival.
(04.) INTER IIT - GAMES: On a rotation basis IIT Roorkee organises Annual Inter IIT Games (Rotation Process: IIT Delhi, Madras/ Chennai, Bombay/ Mumbai, Kanpur, Kharagpur, Guwahati and Roorkee).
(05.) TAYA JI MEMORIAL ANNUAL VOLLEY BALL TOURNAMENT: This national level annual volley ball tournament is organised sometime around Feburary - March by the organising committee and attracts fine national teams from Railways, ONGC, State Police Departments and various other national/ state level organisations.
(6.) PUSHPANJALI: The Annual Flower Show of Bengal Engineering Group & Centre (BEG & C) is celebrated in Bi - Centenary Grounds in Roorkee Cantt. (Around Jan./Feb.)
(7.) Flower Show, NIH: National Institute of Hydrology (NIH) organises annual flower show sometime in winter/early summer.
(08.) Flower Show, CBRI: Central Building Research Institute, Roorkee organises annual flower show sometime in winter/ early summer.
(09.) Flower Show, IIT Roorkee: Indian Institute of Technology also organises its flower shows through (a.) Hobbies Club, IIT Roorkee All India Hobbies Festival / Exhibition (Gardening Section) and (b.) Afro Asian Hostel.
(H.) Roorkee School for the Deaf:
Deafness is considered a curse. The Roorkee School for the Deaf has been working to fight this curse. Situated in IIT Roorkee premises, this school is running in nearly ½ - hecatare land with a sound infrastructure. Though it has no affiliation with the IIT Roorkee, off and on it does use the multi-purpose vast resources of IIT. The school has been started in 1989 and is dedicated to the cause of education for deaf and dumb children. Today, the school imparts education to around 60 students, from LKG to 12th standards. The school follows the CBSE standard of education. But examinations for secondary and higher secondary classes are conducted by the National School of Open Learning, Delhi. Equipped with very ultra modern electronic gadgets and facilities, a team of around half-dozed teachers provide innovative exercises like auditory training, lip reading, whole language approach and self-instruction learning exercise to the students. The curriculum for each child is individually designed and so planned that the residual potential gets fully harnessed. The resultant outputs from the students are very encouraging.
(I.) IIT Roorkee's Central Library:
The Central Library of IIT Roorkee finds a unique place among the Higher Education Libraries. The library was established in 1848 to support the academic activity of the newly established College of Civil Engineering (1847). In 1860, the Library of the Adiscombe College of London and Ganga Canal Library were merged into the College Library. It was rechristened as Central Library in 1862. Started with a couple of hundred books the collection of the library has grown up to more than 2,75,000 documents. Though it is prominently a science and technology library, its collection is equally strong in humanities and social sciences. A number of research scholars from all over the country visit the library every year. This library is a rare amalgamation of the old and the new. On one hand it maintains an excellent archive, on the other hand it uses latest information technology tools in its services. The archives of the library contains more than 5000 documents including world famous ROORKEE TREATISES, handwritten notes of the teachers of the College of Civil Engineering (1846 – The first engg. College of Asia , established in Roorkee), books and other documents printed during 17th and 18th century, the personal collection of Sir. P.B.Cautley (the brain behind the Ganga Canal) etc. Recently the Archival Section has been renovated and has controlled climate to ensure the longevity of the documents. The Library have Computer and Internet facilities and LAN. All resources are searchable from the campus-wide network.
(J.) Drawing and Survey Instruments Industry of Roorkee:
Roorkee's and drawing and survey instruments manufacturing units have given it a unique identy. During the British rule, for about half a century, Roorkee remained a an exclusive centre for the manufacture of survey instruments. After independence some units were established in Ambala (Haryana) and Kolkata (West Bengal), but despite all governmental assistance, these units have not been able to stand on their own. As a result, even today, Roorkee continues to be the centre for the manufacture of survey and drawing instruments. The construction of the Ganga Canal, establishment of the Thomason College of Engineering and later the Bengal Engineering Group and Centre Headquarters in Roorkee gave the needed fillip to the survey instruments industry. Af first, the British had to import even small survey instruments from London. Later, some local people were trained to repair these instruments. Till 1857, the survey and drawing instruments industry had found its feet here. The local people had put up dozens of small scale units in the city. There are about 75 big and small survey and drawing instruments units which produce instruments of crores of rupees annually. Roorkee as it is likely to hit the booming export-oriented industry with an annual exports worth over Rs. 70 crore. Most of the production is for exports to UK and USA. Domestic demand include the technical and higher education institutions including IITs and NITs and select research and professional institutions.
(K.) The Wetland of Bann Ganga:
Come winter and thousand of winged guests, both from Palaearctic countries of Europe and Asia and the local Himalayan region, arrive at the old Upper Ganga Canal near Roorkee, the wetland of Bann Ganga near Laksar and Bheem Goda barrage for their wintry sojourn. It is to be mentioned that in winter when there is no germination in nature, thousands of fowls from the trans Himalayan region such as Siberia descend on the tropical wetlands in the this region of Uttaranchal in search of food and shelter. More than two dozens of species of migratory birds had so far been identified in the wetlands of the region. Prominent among the trans Himalayan migratory birds to which the wetlands of the district play host are spot bills, gulls, marlards, pochards and sholducks. Besides the trans-Himalayan migratory birds, these wetlands are also the destinations for the local Himalayan birds such as herons, wagtails, and cormorants during winter season. Taking cue from their inbuilt biological clock and guided by their unfailing sense of direction, the migratory avifauna descend on these wetlands in November and December and depart for their native habitats in March.
(L.) College of Engineering Roorkee (COER):
Want to pursue a specialized course in Robotic Engg. Or for that matter; in Biomedical Engg. Or Microelectronics? If you though thtat for such courses you'd have to go abroad, then think again. All these and more are now available at the COER. Established in 1999, the college is affiliated to Uttar Pradesh Technical University, Lucknow , and is approved by the All India Council for Technical Education, New Delhi. Spread over about 75 acres of land, the college campus is on NH 58 and is a mini city that is coming up very well. The institute aims at producing technical professionals with a temperament for sound logic and strong morals. There is a full-fledged faculty of about 40 members, most of whom are PGs from the IITs, with vast teaching as well as industry experience. Visiting faculty from across the country is also invited. The institute offers B.Tech. in select disciplines and select PG Programmes including MCA.